A Showtime Original Series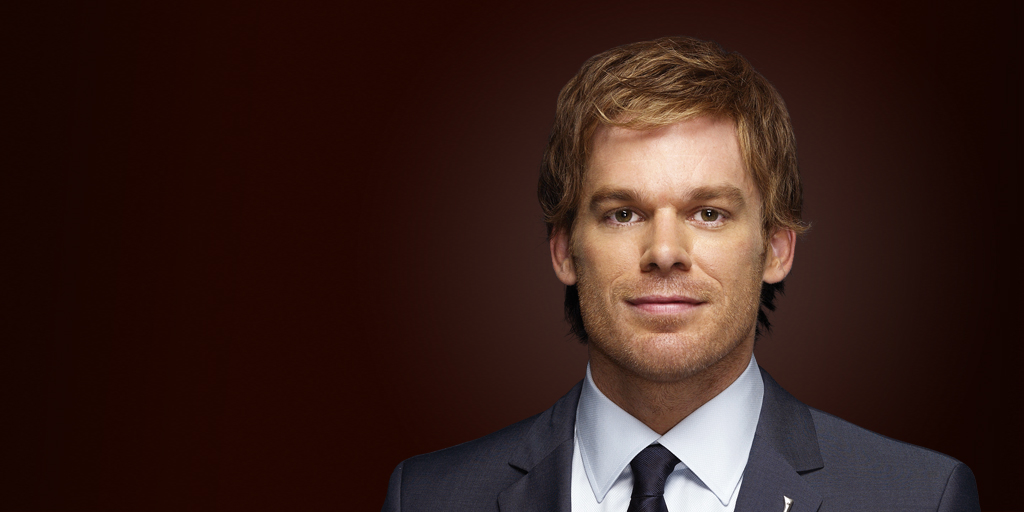 Dexter Morgan
He'll charm fellow officers with doughnuts, spend a Sunday doting on his young son, Harrison, or chop up a victim and toss the parts off the side off his boat. Hiding beneath the mundane exterior of Dexter, a seemingly shy blood spatter expert for the Miami police, is an obsession with meting out his own twisted brand of justice. Dexter kills according to a strict code established by his late father, Harry. But Dexter's carefully ordered reality is crumbling now that his sister Debra knows all and has become his unwilling accomplice.


Michael C. Hall
Moving effortlessly from an uptight funeral director on SIX FEET UNDER, to a serial killer on DEXTER, to Beat Generation figure David Kammerer in KILL YOUR DARLINGS, Michael C. Hall continues to illuminate the humanity and intelligence in transformative, complex characters.

A formally trained stage actor, Hall made an indelible impression as younger brother David Fisher on HBO's groundbreaking series SIX FEET UNDER. During the series' five year run, Hall received nominations for an Emmy Award for Outstanding Lead Actor in a Drama Series and the AFI Male Television Actor of the Year Award.In addition, Hall and the SIX FEET UNDER cast received 2003 and 2004 SAG Awards for Best Performance by an Ensemble in a Drama Series, for which they were also nominated in 2002, 2005 and 2006.

Based on Jeff Lindsay's cult novel, DEXTER explores the mind of a sociopathic killer who targets criminals who have essayed more conventional methods of punishment. For his performance as the title character, Hall (who serves as an executive producer on the series) won Golden Globe and Screen Actors Guild awards in 2010 and the 2007 Television Critics Association Award for Individual Achievement in Drama. He also received five consecutive Emmy Award nominations, five additional SAG Award nominations and four additional Golden Globe nominations.For seasons three through six, the DEXTER acting ensemble garnered SAG Award nominations. Hall recently made his directorial debut with EVERY SILVER LINING, the second episode of the new season of DEXTER.

Hall will continue to work with Showtime to develop and executive produce AMERICAN DREAM MACHINE, a series adaptation of Matthew Specktor's acclaimed novel about a talent agent and his troubled sons - two generations of Hollywood royalty. DEXTER showrunner Scott Buck will supervise the pilot script, which Specktor is writing.

Last year, Hall starred opposite Maura Tierney in RUTH & ERICA, a series written and directed by Amy Lippman (PARTY OF FIVE) exclusively for WIGS, the #1 scripted channel for drama on YouTube. He also appeared in the 2011 College Humor short PORN RENTAL, written by and co-starring Ben Schwartz.

Hall will soon appear on the big screen as David Kammerer, the former professor obsessed with and later murdered by Lucien Carr (Dane DeHaan) in John Krokidas's KILL YOUR DARLINGS. Following a warm reception from both critics and audiences at the Sundance Film Festival, Sony Pictures Classics purchased the Beat Generation drama that also stars Daniel Radcliffe as Alan Ginsberg, Ben Foster as William Burroughs, and Jack Huston as Jack Kerouac.

Next month, Hall begins shooting COLD IN JULY, a feature adaptation of the Joe Lansdale cult novel that will be directed by Jim Mickle, whose WE ARE WHAT WE ARE recently screened at the Cannes Film Festival. Hall plays protagonist Richard Dane, who shoots and kills an armed burglar in his living room. It's a clear-cut case of self-defense to everyone but the burglar's father, who vows Old Testament-style eye-for-an-eye justice. The cops, the feds, and the Dixie mafia all play a part in the ensuing mayhem. The picture was introduced at Cannes by Paris-based Backup Media and Memento Films International, which are financing.

Hall's film credits also include GAMER, John Woo's PAYCHECK, and the independent features BEREFT, PEEP WORLD, and THE TROUBLE WITH BLISS.

A North Carolina native and graduate of New York University's Master of Fine Arts program in acting, Hall has appeared in nearly a dozen major stage productions. He made his Broadway debut as the emcee in CABARET directed by Sam Mendes and also portrayed Billy Flynn in CHICAGO. Off-Broadway, Hall starred opposite Alec Baldwin and Angela Bassett in MACBETH, directed by George C. Wolfe and CYMBELINE with Liev Schreiber for the New York Shakespeare Festival, TIMON OF ATHENS and HENRY V at the Public Theater, THE ENGLISH TEACHERS for Manhattan Class Company, the Manhattan Theater Club's production of CORPUS CHRISTI, directed by Joe Mantello and opposite Brian Cox in SKYLIGHT at the Mark Taper Forum in Los Angeles.