Season 3 Premiere: Sun, Jan 12 at 10 PM ET/PT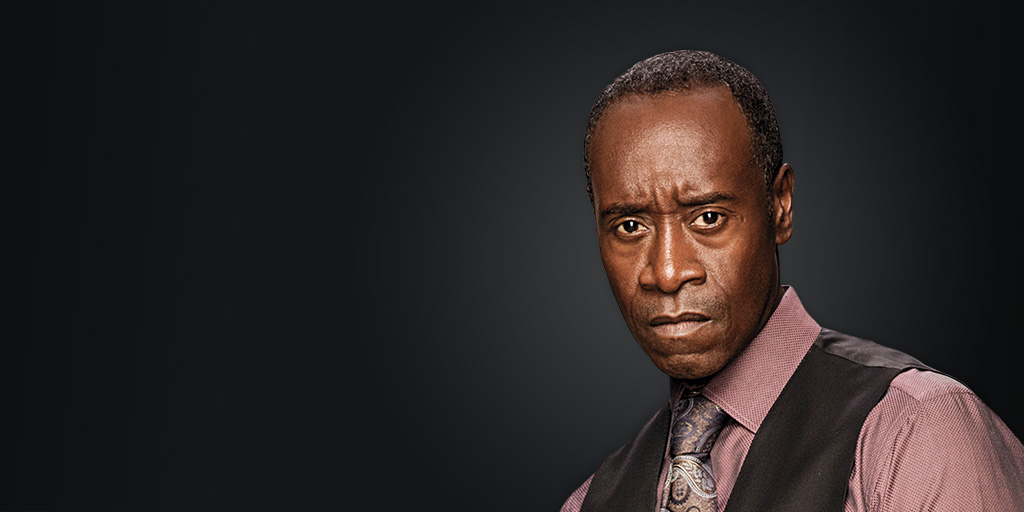 Marty Kaan
An extraordinary but unscrupulous management consultant, Marty is gifted at identifying, and exploiting, the weaknesses of clients to get them to sign on the dotted line. He is offensive, egotistical, narcissistic, womanizing, crafty, and very "un-PC," all of which make him very good at his job. But his brash and ruthless behavior has gotten him into trouble at home, and his beloved son Roscoe is now in full custody of his vindictive ex-wife Monica.
Don Cheadle
Don Cheadle has consistently turned in powerful performances on the stage and screen since being named the Best Supporting Actor by the Los Angeles Film Critics for his breakout performance opposite Denzel Washington in DEVIL IN A BLUE DRESS.
Cheadle's latest feature film, Robert Zemeckis' FLIGHT, premiered at the New York Film Festival in October and was released by Paramount Pictures. In 2011, Cheadle produced and starred in THE GUARD, which premiered at the 2011 Sundance Film Festival and was released by Sony Pictures Classics. Cheadle can also be seen in Marvel Studios' IRON MAN 2 opposite Robert Downey, Jr.; and in BROOKLYN'S FINEST, an ensemble crime thriller directed by Antoine Fuqua and co-starring Richard Gere and Ethan Hawke. He will next star in a movie based on the life of jazz legend Miles Davis. Cheadle also just wrapped IRON MAN 3.
In 2008, Cheadle starred opposite Guy Pearce in Overture Films' TRAITOR, an international thriller which he also produced. Additional film credits include TALK TO ME; the 2006 Oscar® winning Best Picture, CRASH, which Cheadle also produced; HOTEL RWANDA, for which his performance garnered Academy Award®, Golden Globe®, Broadcast Film Critics Award, and Screen Actors Guild® Award nominations for Best Actor; OCEAN'S ELEVEN, OCEAN'S TWELVE, AND OCEAN'S THIRTEEN, directed by Steven Soderbergh; Mike Binder's REIGN OVER ME with Adam Sandler; the Academy Award® winning film TRAFFIC and OUT OF SIGHT, both also directed by Soderbergh; Paul Thomas Anderson's critically acclaimed BOOGIE NIGHTS; BULWORTH, SWORDFISH, MISSION TO MARS, John Singleton's ROSEWOOD, for which Cheadle earned an NAACP Image Award nomination; FAMILY MAN, directed by Brett Ratner and starring Nicolas Cage; COLORS, HAMBURGER HILL, and the independent features MANIC and THINGS BEHIND THE SUN. Cheadle was recently honored by both the CineVegas Film Festival and the Los Angeles Film Festival and in 2007, received ShoWest's Male Star of the Year Award.
For his work on television, Cheadle received an Emmy® nomination this past year for his portrayal of cutthroat consultant Marty Kaan on Showtime's House of Lies. In 1999 Cheadle received a Golden Globe® Award and Emmy® nomination for his remarkable portrayal of Sammy Davis, Jr. in HBO's THE RAT PACK. That same year, he received an Emmy® nomination for his starring role in HBO's adaptation of the critically-acclaimed, best-selling novel A LESSON BEFORE DYING by Ernest J. Gaines. He also starred for HBO in REBOUND: THE LEGEND OF EARL 'THE GOAT' MANIGAULT, directed by Eriq La Salle.
Well-known for his two-year stint in the role of District Attorney John Littleton on David E. Kelley's critically-acclaimed series PICKET FENCES, Cheadle's other series credits include an Emmy® nominated guest-starring role on ER and a series regular role on THE GOLDEN PALACE. He was also part of the stellar cast of the thrilling live CBS television broadcast of FAIL SAFE. He also had a recurring role on the hit series, FAME.
An accomplished stage actor, Cheadle originated the role of Booth in Suzan-Lori Parks' Pulitzer Prize winning play TOP DOG UNDERDOG at New York's Public Theatre under the direction of George C. Wolfe. His other stage credits include LEON, LENA AND LENZ at the Guthrie Theater in Minneapolis; THE GRAPES OF WRATH and LIQUID SKIN at the Mixed Blood Theater in Minneapolis; CYMBELINE at The New York Shakespeare Festival; 'TIS PITY SHE'S A WHORE at Chicago's Goodman Theater; and Athol Fugard's BLOOD KNOT at The Complex Theater in Hollywood. He also directed CINCINNATI MAN Man at the Attic Theatre and THE TRIP at Friends and Artists Theater in Hollywood.
In addition to his many acting honors, Cheadle was nominated for a Grammy® Award in 2004 for Best Spoken Word Album for his narration/dramatization of the Walter Mosley novel FEAR ITSELF. Cheadle's philanthropic work includes serving as a U.N. Ambassador for the United Nations Environment Programme. He also produced the documentary film, DARFUR NOW, an examination of the genocide in Sudan's western region of Darfur.