New Episodes Coming in 2015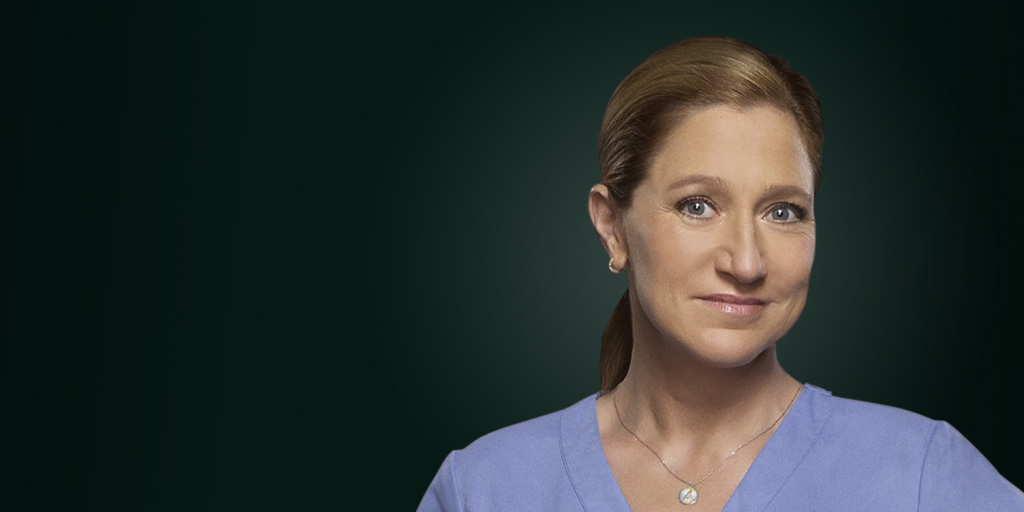 Jackie Peyton
Nurse Jackie Peyton is determined to be all things to all people. As an ER nurse, she navigates the rough waters of a crumbling healthcare system, doing everything she can to provide her patients with the best care possible. As a mother and friend, she's a rock. But after a year clean from her nasty little prescription pill habit, Jackie is secretly back on the drugs and back to her old tricks. Is sobriety the ultimate cover for a raging addiction, or will the people in her life catch on?


Edie Falco
Edie Falco has broken many awards records. For her role as Jackie Peyton in Nurse Jackie, she has won the Emmy® for Best Actress in a Comedy, thus making her the only actress to have won an Emmy® in both the comedy and drama categories. This year, she broke the SAG record by earning her 20th nomination; 12 for individual achievement and 8 for her ensemble work.


Other credits include winner in AFI's Top Ten TV Programs of 2009, as well as a 2009 Golden Globe®. She became the only actress to ever receive the Emmy® Award for Outstanding Lead Actress in a Dramatic Series, the Golden Globe® Award for Best Performance by an Actress in a Dramatic Television Series, and the SAG Award for Outstanding Performance by a Female Actor in a Drama, all in the same year for her performance as Carmela Soprano in the groundbreaking series THE SOPRANOS' debut season. She has subsequently been nominated for each award for every eligible television season, winning two additional Emmy® Awards, another Golden Globe® Award and SAG Award, as well as the American Film Institute's Award for Female Television Actor of the Year.


She recently appeared off Broadway in THE MADRID, written by Nurse Jackie executive producer Liz Flahive. Prior to that, she appeared opposite Ben Stiller in HOUSE OF BLUE LEAVES in which she was nominated for the Tony Award for Best Actress.


When she received the Television Critics Association Award (TCA) for Individual Achievement in Drama, it was the first time in the history of the TCA that this Award was presented to a woman. She is also known to television audiences for her recurring roles in the dramatic series OZ and the acclaimed NBC series LAW & ORDER and HOMICIDE. Falco made her Broadway debut in the Tony® Award-winning play SIDEMAN, which she originated in its off-Broadway production. For her performance, she received a Theatre World Award and a Drama Desk Award nomination for Best Performance by an Actress in a Leading Role in a Play. She went on to make her London stage debut in the West End premiere of SIDEMAN, and thereafter opened the London production of the highly successful play THE VAGINA MONOLOGUES. When Falco starred opposite Stanley Tucci in the lauded revival of FRANKIE AND JOHNNY IN THE CLAIRE DE LUNE, the play broke four house box-office records at Broadway's Belasco Theatre, making it the most successful play on Broadway all season. More recently she appeared off-Broadway in the highly-acclaimed THIS WIDE NIGHT.


For the feature film COST OF LIVING, Falco received the American Film Institute's Best Actress Award. Her performance in the film LAWS OF GRAVITY earned her an Independent Spirit Award nomination for Best Female Lead Actor. Her other film credits include A PRICE ABOVE RUBIES, COPLAND, TROUBLE CORNER, PRIVATE PARTS, HURRICANE, LAYIN' LOW, BREATHING ROOM, THE FUNERAL, THE ADDICTION, BULLETS OVER BROADWAY, TRUST, THE UNBELIEVABLE TRUTH, RANDOM HEARTS, and the title character in the award-winning film JUDY BERLIN. For her performance in John Sayles' SUNSHINE STATE, Falco received the Los Angeles Film Critics Association and New York Film Critics Online Award for Best Supporting Actress. She also starred in the feature films THE QUIET, THE GREAT NEW WONDERFUL, and FREEDOMLAND.