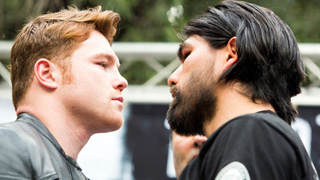 FULL EPISODE: All Access: Canelo vs. Angulo Episode 2
With their March 8 PPV matchup just days away, enjoy the second episode of All Access.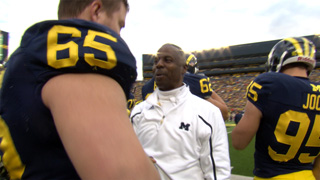 60 Minutes Sports: March Edition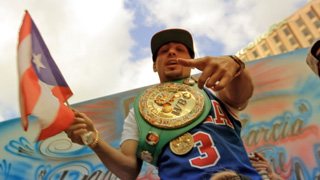 On March 15, Danny Garcia is "Coming Home" to Puerto Rico
As Danny Garcia prepares for his fight in Puerto Rico, he's embracing his heritage.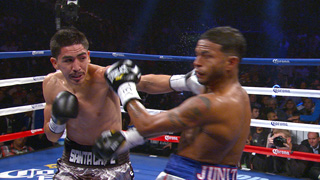 March 8th: Canelo vs. Angulo plus three world title fights.
3 Title Fights: Santa Cruz vs. Mijares, Figueroa vs. R. Alvarez & Charlo vs. Molina
Schedule

Fri, Mar 07


10:00 PM ET/PT, SHO EXTREME
60 Minutes Sports: 60 Minutes Sports
11:30 PM ET/PT, SHO EXTREME
All Access: Canelo vs. Angulo - Episode 2

Sat, Mar 08


12:00 AM ET/PT, SHO EXTREME
ShoBox: 2/28/14
1:30 AM ET/PT, SHOWTIME
60 Minutes Sports: 60 Minutes Sports
3:00 AM ET/PT, SHO EXTREME
All Access: Canelo vs. Angulo - Episode 2
10:00 AM ET/PT, SHO EXTREME
All Access: Canelo vs. Angulo - Episode 1
10:30 AM ET/PT, SHO EXTREME
All Access: Canelo vs. Angulo - Episode 2
12:30 PM ET/PT, SHOWTIME
All Access: Canelo vs. Angulo - Episode 2
2:00 PM ET/PT, SHO EXTREME
All Access: Canelo vs. Angulo - Episode 2
6:15 PM ET/PT, SHO 2
Lenny Cooke

Mon, Mar 10


9:20 AM ET/PT, SHOWTIME
The Other Shore: The Diana Nyad Story

Tue, Mar 11


8:30 PM ET/PT, SHO EXTREME
Lenny Cooke
10:00 PM ET/PT, SHO EXTREME
Showtime Championship Boxing: Garcia vs. Judah (R)

Wed, Mar 12


9:00 PM ET/PT, SHOWTIME
Jim Rome On Showtime: 303
10:00 PM ET/PT, SHO EXTREME
Jim Rome On Showtime: 303
11:00 PM ET/PT, SHOWTIME
Jim Rome On Showtime: 303
11:00 PM ET/PT, SHO EXTREME
Strikeforce: Barnett vs. Cormier (R)

Thu, Mar 13


12:00 AM ET/PT, SHOWTIME
Lenny Cooke
7:45 AM ET/PT, SHOWTIME
The Other Shore: The Diana Nyad Story
11:00 PM ET/PT, SHO EXTREME
Jim Rome On Showtime: 303

Fri, Mar 14


10:00 PM ET/PT, SHO EXTREME
Jim Rome On Showtime: 303
11:00 PM ET/PT, SHO EXTREME
Strikeforce Extreme: Tate vs. Kedzie (R)