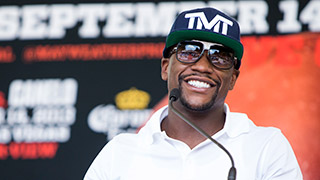 Watch as Mayweather meets the media tomorrow 3p ET/Noon PT.
Floyd Mayweather talks with the press about his May 3 PPV fight against Marcos Maidana.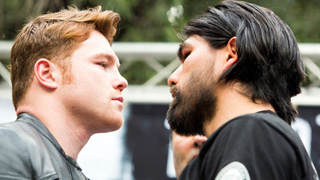 FULL EPISODE: All Access: Canelo vs. Angulo Episode 2
Follow Canelo and Angulo behind the scenes as they prepare for their fight.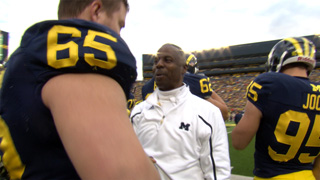 60 Minutes Sports: March Edition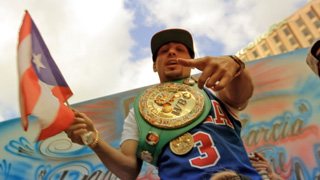 On March 15, Danny Garcia is "Coming Home" to Puerto Rico
As Danny Garcia prepares for his fight in Puerto Rico, he's embracing his heritage.
Schedule

Fri, Mar 07


10:00 PM ET/PT, SHO EXTREME
60 Minutes Sports: 60 Minutes Sports
11:30 PM ET/PT, SHO EXTREME
All Access: Canelo vs. Angulo - Episode 2

Sat, Mar 08


12:00 AM ET/PT, SHO EXTREME
ShoBox: 2/28/14
1:30 AM ET/PT, SHOWTIME
60 Minutes Sports: 60 Minutes Sports
2:05 AM ET/PT, SHO EXTREME
All Access: Canelo vs. Angulo - Episode 2
10:00 AM ET/PT, SHO EXTREME
All Access: Canelo vs. Angulo - Episode 1
10:30 AM ET/PT, SHO EXTREME
All Access: Canelo vs. Angulo - Episode 2
12:30 PM ET/PT, SHOWTIME
All Access: Canelo vs. Angulo - Episode 1
1:00 PM ET/PT, SHOWTIME
All Access: Canelo vs. Angulo - Episode 2
2:00 PM ET/PT, SHO EXTREME
All Access: Canelo vs. Angulo - Episode 2
6:15 PM ET/PT, SHO 2
Lenny Cooke

Mon, Mar 10


9:20 AM ET/PT, SHOWTIME
The Other Shore: The Diana Nyad Story

Tue, Mar 11


8:30 PM ET/PT, SHO EXTREME
Lenny Cooke
10:00 PM ET/PT, SHO EXTREME
Showtime Championship Boxing: Garcia vs. Judah (R)

Wed, Mar 12


9:00 PM ET/PT, SHOWTIME
Jim Rome On Showtime: 303
10:00 PM ET/PT, SHO EXTREME
Jim Rome On Showtime: 303
11:00 PM ET/PT, SHOWTIME
Jim Rome On Showtime: 303
11:00 PM ET/PT, SHO EXTREME
Strikeforce: Barnett vs. Cormier (R)

Thu, Mar 13


12:00 AM ET/PT, SHOWTIME
Lenny Cooke
7:45 AM ET/PT, SHOWTIME
The Other Shore: The Diana Nyad Story
11:00 PM ET/PT, SHO EXTREME
Jim Rome On Showtime: 303

Fri, Mar 14


10:00 PM ET/PT, SHO EXTREME
Jim Rome On Showtime: 303
11:00 PM ET/PT, SHO EXTREME
Strikeforce Extreme: Tate vs. Kedzie (R)