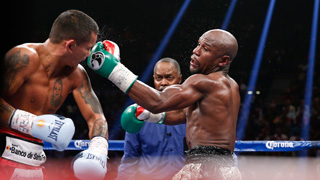 Mayweather Remains Unbeaten
After 24 rounds with Marcos Maidana, Floyd Mayweather is still the undisputed champ.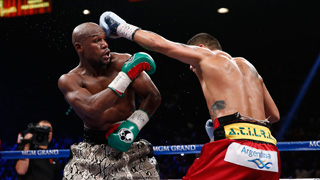 Mayhem: Fight Night Photos
Check out the photos from the rematch between Floyd Mayweather & Marcos Maidana.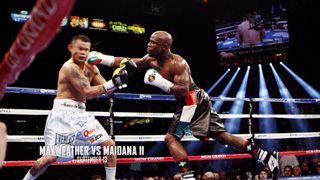 Guts Over Fear featured in #Mayhem Trailer
Eminem's Guts Over Fear is featured in this Mayweather vs. Maidana 2 hype video.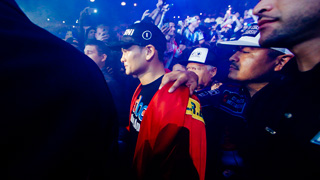 Making Marcos "El Chino" Maidana
Journalist Mark Kriegel talks with trainer Robert Garcia about his star pupil & more.
Schedule

Thu, Sep 18


10:00 PM ET/PT, SHO EXTREME
All Access: Mayweather vs. Maidana 2- Episode 1
10:30 PM ET/PT, SHO EXTREME
All Access: Mayweather vs. Maidana 2- Episode 2
11:00 PM ET/PT, SHO EXTREME
All Access: Mayweather vs. Maidana 2- Episode 3

Fri, Sep 19


2:00 PM ET/PT, SHO EXTREME
60 Minutes Sports: 60 Minutes Sports
10:00 PM ET/PT, SHO EXTREME
Inside The NFL: 2014 Week 3
11:00 PM ET/PT, SHO EXTREME
Showtime Championship Boxing: Mayweather vs. Maidana I

Sat, Sep 20


1:30 AM ET/PT, SHOWTIME
Inside The NFL: 2014 Week 3
2:30 AM ET/PT, SHOWTIME
60 Minutes Sports: 60 Minutes Sports
3:30 AM ET/PT, SHOWTIME
Jim Rome On Showtime: 308
8:00 AM ET/PT, SHOWTIME
Inside The NFL: 2014 Week 3
2:45 PM ET/PT, SHO EXTREME
Venus and Serena
7:00 PM ET/PT, SHO EXTREME
Inside The NFL: 2014 Week 3
9:00 PM ET/PT, SHOWTIME
Showtime Championship Boxing: Mayweather vs. Maidana II DB
10:45 PM ET/PT, SHOWTIME
All Access: Mayweather vs. Maidana 2- Epilogue

Sun, Sep 21


12:00 AM ET/PT, SHO EXTREME
Showtime Championship Boxing: Mayweather vs. Maidana II DB
1:50 AM ET/PT, SHO EXTREME
All Access: Mayweather vs. Maidana 2- Epilogue
8:00 AM ET/PT, SHOWTIME
Inside The NFL: 2014 Week 3
9:00 AM ET/PT, SHOWTIME
Showtime Championship Boxing: Mayweather vs. Maidana II DB
10:45 AM ET/PT, SHOWTIME
All Access: Mayweather vs. Maidana 2- Epilogue
11:15 AM ET/PT, SHOWTIME
60 Minutes Sports: 60 Minutes Sports
3:30 PM ET/PT, SHO EXTREME
Fightville

Mon, Sep 22


10:00 PM ET/PT, SHO EXTREME
Showtime Championship Boxing: Mayweather vs. Maidana II DB
11:45 PM ET/PT, SHO EXTREME
All Access: Mayweather vs. Maidana 2- Epilogue

Tue, Sep 23


9:00 PM ET/PT, SHOWTIME
Inside The NFL: 2014 Week 4
10:00 PM ET/PT, SHO EXTREME
Strikeforce: Melendez vs. Kato (R)
11:00 PM ET/PT, SHOWTIME
Inside The NFL: 2014 Week 4

Wed, Sep 24


12:30 AM ET/PT, SHOWTIME
All Access: Mayweather vs. Maidana 2- Epilogue
8:00 PM ET/PT, SHOWTIME
Inside The NFL: 2014 Week 4
10:00 PM ET/PT, SHO EXTREME
Inside The NFL: 2014 Week 4
11:00 PM ET/PT, SHOWTIME
Inside The NFL: 2014 Week 4
11:00 PM ET/PT, SHO EXTREME
Showtime Championship Boxing: Castillo vs. Corrales I (R)

Thu, Sep 25


12:00 AM ET/PT, SHOWTIME
Jim Rome On Showtime: 308
6:05 AM ET/PT, SHO EXTREME
All Access: Mayweather vs. Maidana 2- Epilogue
6:40 AM ET/PT, SHO EXTREME
Venus and Serena
1:00 PM ET/PT, SHO EXTREME
Inside The NFL: 2014 Week 4
8:00 PM ET/PT, SHOWTIME
Glena
9:30 PM ET/PT, SHOWTIME
All Access: Mayweather vs. Maidana 2- Epilogue
10:00 PM ET/PT, SHO EXTREME
Showtime Championship Boxing: Guerrero vs. Kamegai (R)