A Showtime Original Series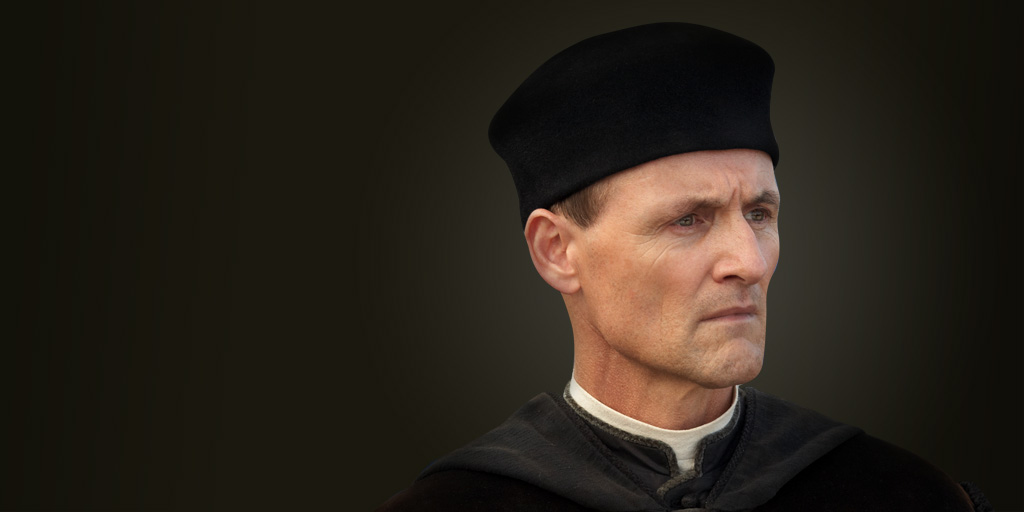 Della Rovere
The rich and powerful Cardinal Della Rovere is Rodrigo Borgia's chief rival for the papacy. When he is passed over for selection, Della Rovere devotes himself to unseating the Pope, whom he sees as lewd, blasphemous, and his vast moral inferior. But Della Rovere becomes so obsessed with his quest that lowers himself to the Borgias' level to achieve his goal. Della Rovere's scheming is not lost on Alexander and Cesare, who redouble their efforts to take him down permanently.
Colm Feore
Colm Feore's talent crosses many borders: an international success story, he acts in both English and French and has conquered many mediums, with starring roles in film, television, and on stage. He will next be seen in Marc Webb's upcoming sequel to THE AMAZING SPIDERMAN.

In film, he appeared in THOR with Anthony Hopkins and Natalie Portman and THE TROTSKY, which was released on 2010. His other film credits include Oscar nominated CHANGELING, directed by Clint Eastwood; the Oscar winning film CHICAGO, which also won the 2003 SAG Award for Outstanding Performance by the Cast of a Theatrical Motion Picture; THE CHRONICLES OF RIDDICK; THE EXORCISM OF EMILY ROSE; PAYCHECK; THE SUM OF ALL FEARS; THE LISTENER, THIRTY TWO SHORT FILMS ABOUT GLENN GOULD, which won the Genie Award for Best Picture and earned him a nomination for his performance; THE INSIDER and TITUS.

Celebrated as a fine stage actor, he recently had a triumphant return to Canada's renowned Stratford Shakespeare Festival where he played two lead roles, Cyrano de Bergerac, directed by his wife, Donna Feore, and MacBeth. In 2005, Feore starred with Denzel Washington in the Broadway production of Shakespeare's JULIUS CAESAR. His performance earned him the St. Clair Bayfield Award, denoting the best performance by an actor in a Shakespearean play in the New York metropolitan area. Feore was featured in the 2006 Stratford Festival to star in DON JUAN, in which he played the title role in both the English and the French performances of the play. Feore also acted in the title role in CORIOLANUS, and performed the role of Fagin in OLIVER, to rave reviews. He first gained prominence as one of Canada's premiere stage actors through thirteen seasons with the prestigious Stratford Festival, playing virtually all of Shakespeare's leading men, from Richard III and Iago to Romeo and Hamlet. Feore was also recently on stage as Claudius in HAMLET in New York and returned to Stratford for its 50th Anniversary season playing Professor Higgins in MY FAIR LADY.

On the Canadian big screen, he will next be seen in a Kevin Tierney-produced project entitled SERVEUSES DEMANDEES, and in LE PIEGE AMERICAIN (The American Trap), directed by Charles Biname. Feore recently co-starred in the hit film BON COP BAD COP, one of the highest-grossing Canadian films of all time. On the small screen, he can currently be seen in the mini-series GUNS.

His list of small screen movie credentials is as long as it is varied, ranging from historical roles in NUREMBURG, THE DAY REAGAN WAS SHOT, AND STARRING PANCHO VILLA AS HIMSELF, EMPIRE, and TRUDEAU -- for which he won the 2002 Monte Carlo Television Festival Award for Best Actor and the 2002 Gemini Award for Best Actor in a Mini Series -- to classic dramas including ROMEO AND JULIET, and TAMING OF THE SHREW. Feore has also had many roles in such successful contemporary shows as 24, FLASHPOINT, THE WEST WING, BOSTON PUBLIC, and the Canadian mini-series SLINGS & ARROWS II, a look behind the scenes at the chaotic world of theatre. Recently, Colm appeared on the hit drama series REVOLUTION and guest starred on CBS' THE GOOD WIFE.

Feore is the 2007 recipient of the NBC Universal Canada Award of Distinction at the Banff World Television Festival.